Press Releases:
El cantautor y acordeonista Sunny Sauceda y su grupo "Todo Eso" celebra su tercera nominación al codiciado Latin GRAMMY® en la categoría de Mejor Álbum Tejano por su disco "Homenaje A Mi Padre (Solstice Records)".
En este disco, el doble ganador del premio GRAMMY® Sunny Sauceda, le rinde homenaje a su padre en vida, Mario Alberto Sauceda, en donde en cada uno de los temas plasma un sentimiento de amor familiar, de nostalgia en perder a un ser querido y a la misma vez, temas que celebran a la vida. Éste contiene 15 canciones, en los que se incluyen comentarios del mismo padre de Sunny; el Sr. Mario Alberto, sobre sus vivencias cuando joven y de su gran amor por la composición y su familia. Esta joya musical, cierra con un dueto muy llegador del tema "Ojitos Negros" interpretado por padre e hijo.
Sunny sin duda alguna se ve reflejado en su padre y le agradece con música por haberle inculcado el mantener vivo su talento a través de los años, "El amor de mi padre hacia su familia y la música han sido gran parte de mi existencia. Mi pasión por la música viene por parte de mi padre y mi talento fue un regalo de dios".
Homenaje a mi Padre es una jornada sentimental la cual reúne a un padre con su hijo a través de la música e historias de familia. El disco ya se encuentra a la venta en todas las tiendas, al igual que en iTunes.
Tracklisting
1. Introducción
2. El Hombre Más Rico
3. Tomás, Tomás
4. Pasión Al Aire
5. Ando Ausente
6. Cuando Tenía Mi Madre
7. La Almohada
8. Me Equivoqué
9. Las Favoritas del Chapulín
10. Triste Bohemio
11. Tu Mala Cabeza
12. Mi Maestra Me Enseñó
13. Mi Querido Viejo
14. El Camino del Músico
15. Ojitos Negros (dueto con Mario Alberto Sauceda)
La onceava entrega de los premios se llevará a cabo el jueves 11 de noviembre en el Mandalay Bay Events Center de las Vegas, Nevada.
Para conocer más de Sunny Sauceda y Todo Eso, escuchar su música y noticias, ingresar a:
www.sunnysauceda.com
www.myspace.com/sunnysauceda
www.facebook.com/sunnysauceda
www.twitter.com/sunnysauceda
Fuente: Azul Public Relations
Latin Grammys tonight
San Antonio is in the house at the 11th annual Latin Grammy Awards show in Las Vegas tonight.
Two popular San Antonio Tejano musicians are nominated in the best Tejano album category at the 11th annual Latin Grammy Awards. 
The Tejano category is dominated by seasoned musicians.  
Accordion virtuoso Sunny Sauceda, who made his name as a young man with Grupo Vida and is a two-time Grammy winner, is nominated for his album "Homenaje a Mi Padre."  The low-key, conceptual album celebrates the songs of his musician father, Mario Alberto Sauceda.
Click here to read the whole article
Sunny Sauceda y 'Todo Eso' nominados por cuarta vez al Grammy
Lunes, 18 de Enero de 2010 14:34
Escrito por Editor
EE.UU.- El cantautor originario de Texas, Sunny Sauceda y su grupo 'Todo Eso', siguen ascendiendo en la escena musical y prueba de esto es la cuarta nominación al mayor premio en la industria de la música, el Grammy.
Nominados en la categoría de Mejor Álbum Tejano (Vocal o Instrumental) con su tercer musical Radiación Musical,  el grupo liderado por Sunny Sauceda, joven de 33 años de edad y originario de San Antonio Texas, se postulan como uno de los favoritos entre los nominados.
Radiación Musical es un disco lleno de frescura y sentimiento, el cual salió a la venta en Octubre del 2008 bajo el sello discográfico Tejas Records. La placa discográfica incluye 10 temas, de los cuales dos de ellos son en ingles, siendo "Hasta El Día de Hoy", el primer corte promocional del disco, un tema escrito por el reconocido compositor mexicano Gabriel Flores.
 
Cabe mencionar que, Sunny Sauceda y Todo Eso no son extraños ante los GRAMMY®, ya que en años anteriores obtuvieron dos galardones con producciones pasadas como  Mejor Álbum Tejano en los Grammy y Latin Grammy.
 
Sunny Sauceda y Todo Eso está integrado por Sunny Sauceda en el acordeón y voz principal, Leroy Esparza quien toca la Guitarra, Bajo Sexto y Voz. También por Pete (Tiny) Gutiérrez en la Bajo Eléctrico y Voz, y Greg Enríquez en la batería, formando el grupo el cual nació hace cinco años. (AGENCIAORBITA)
---
FOR IMMEDIATE RELEASE                                   
September 8, 2009
For more information contact:
Aur-Marc Management
Ricardo Hernandez
(214) 941-4415
aurmarc@sbcglobal.net
Sunny Sauceda – Homenaje a mi Padre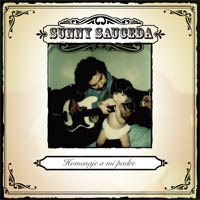 San Antonio, TX – Solstice Records proudly present Homenaje a mi Padre. The highly revered accordionist and 2-time Grammy Award Winner, Sunny Sauceda, pays homage to his father, Mario Alberto Sauceda. He was influencing his son, even, prior to Sunny's birth as he practiced and sang. By the tender age of 5, Sunny Sauceda was completely immersed with bajo sexto, accordion, vocals and a passion for conjunto. Sunny performed at flea markets as a child.
Sunny reflects on his father and how this gave birth to his award-winning talent by sharing, "My father's love for family and music are a big part of my existence. My passion comes from my father and the talent comes from God."
Homenaje a mi Padre is a sentimental journey, reuniting a father and son in music. The full length CD is available in most retail outlets September 8, 2009 or online at www.sunnysauceda.com and www.myspace.com/sunnysauceda
---
Press Clippings:
Gente y Mas Article: "Sunny Sauceda, un ídolo musical"
02/03/2010, by Elizabeth López
Read the article: Click here for the PDF File of the article
Houston Chronicle Article: "Sunny Sauceda talks GRAMMYS, state of Tejano"
01/29/2010, by n/a
"Sunny Sauceda is no stranger to the Grammy Awards. The San Antonio accordionist and
singer took home the best Tejano album trophy in 2005 for Polkas, Gritos y Accordeones
(and also nabbed the Latin Grammy in the same category). Sauceda has earned a stack of
Tejano industry honors, including several as the former frontman of Grupo Vida.
Part of what's kept him relevant is his willingness to try new things. Sauceda landed an
opening spot on the Dixie Chicks' Fly Tour, and his new disc is a stirring tribute to family. A
few days before heading to Los Angeles for the big ceremony, Sauceda talked tradition and
breaking with the past:"
Read the article: Click here for the PDF File of the article
San Antonio Express Article: "GRAMMY Bound"
01/28/2010, by Melissa Renteria-Conexion
" Nominated for the album "Radiación Musical," Sunny Sauceda shares the nomination with his band Todo Eso.
"It really validates your art. It adds value to your company," says Sauceda, who describes his modern take on Tejano music as a "capirotada," or a blend of various sounds."
Read the article: Click here for the PDF File of the article
San Antonio Current Article: "The Grateful Dead",
01/27/2010, by ENRIQUE LOPETEGUI
Read the article: Click here for the PDF File of the article
San Antonio Express Article: "Latin Notes: Sauceda Wraps up Tribute Album"
08/20/2009, by Hector Saldaña
Read the article: Click here for the PDF File of the article
Tejano Grammy nominee Sunny Sauceda likes to mix it up in different genres
Ramiro Burr
Express-News Staff Writer
"One of the main things I like to do is collaborate with other artists and songwriters," Sauceda said. "I like working with a variety of musicians. I am not limited to just Tejano.
"I wanted to use Sunny because of his unique sound and the energy," said Roger Velasquez, whose latest CD, "Quiero Besarte," features Sauceda. "He has a whole lot of energy, not just on stage but also in the studio, and it comes through even on the recording.
"He brought that spark and fire to the tunes 'Quiero Besarte' and 'La Vida Corta.'"
"When he joined them, Sunny transcended Grupo Vida. He took their sound to a whole different playing field," said Carlos Alvarez, ARC Discos promotions representative. "Sunny still has that power and dynamic energy on his albums, but you can also still hear a raw conjunto feel."
"Sunny has positioned himself as a top solo artist. He's made some risky career moves to help him stand out," said DJ "Jumpin'" Jess Rodriguez with the Houston-based A Top Latin Entertainment Agency. "He is definitely a breakout artist, and his Grammys can attest to that. He's also a professional. His membership in the Texas Grammys and the Academy of Tejano Music tells you he is serious about his craft."
Sunny Sauceda encourages Latin music fans to "Live Free".

Sunny Sauceda has again stepped up in 2007 and delivered the most exciting CD of the year. Mixed and mastered by famous Latin music recording engineer Tony Gonzales, the red hot "Vagar Libremente" is the newest priority from Texas based Tejas Records.

While last year's self titled "Sunny" and its huge radio hit "Cumbia Con Acordeón" announced his exciting solo recording career to the world, Sunny has now raised the bar even further with this incredible mix of styles and creative influences that is "Vagar Libremente".

Radio stations throughout the market are raving over the new CD. Program director Jay Gonzalez says "This whole record is killer, no filler. I think this CD is worthy of the record of the year award". Rudy G from KBSO 94.7 in Corpus Christi says "Totally awesome. The best record so far this year."

Tejas was excited to reunite Tony Gonzales and Sauceda, two friends who's collaborations were part of many chart topping hits and the platinum selling "Kik It", one of the highest selling and most popular records in this genre.

Sunny's career started as a childhood star in San Antonio, recording his first CD as a young boy at the age of 5. During a lifetime spent with music; first with his family then with highly successful groups and now as a solo artist, Sunny's songwriting, recordings, and performances have been enjoyed by hundreds of thousands of fans across the world. As the charismatic front man for Grupo Vida, Sunny's legendary stage presence influenced a decade of up and coming performers – something he is continuing to do even stronger with new artistic freedom. As his musical career progressed Sunny received some of the highest recognitions in the industry including two GRAMMY awards, Billboard Magazine's " Relevación Del Año", Accordion Player of the Year award, and an opening spot on the record breaking Dixie Chicks "Fly" tour.

Now the culmination of all his past accomplishments is clear in the quality of "Vagar Libremente" about which Tony Gonzales who co-produced the hit CD with Sauceda said "What a tremendous talent Sunny is. Recording this CD reminded me of the old days; I think we've hit upon that magic one more time".

As to the CD's commercial success, wholesalers and retailers across the country are now viewing Sunny as one of the potential hotspots in this Latin music niche.
"We had a strong nationwide release on "Vagar Libremente", says Seven Z Music Distribution President Johnny Zaragoza. "Tejas Records is our biggest label partner and they believe very strongly in him. We worked the advance retail promotion on this record very aggressively. We got Sunny to Las Vegas during the production phase of the record to be introduced to music buyers for The Handleman Co. who represent K-Mart, Best Buy and Circuit City. We flew with Tejas representatives to Handleman's annual meeting in Nashville to personally put Sunny's advance promotion materials into the hands of every single regional sales rep in the United States. "Vagar Libremente" was able to hit the street with a level of retailer awareness that most records don't get. We'll see the benefit of these efforts build with every new Sunny release and that's one reason he's an artist to watch."


Sunny shows no signs of slowing down and is pushing his promotion and performance schedule tirelessly to keep building on his successes.
Go to www.sunnysauceda.com to see photos of Sunny, to listen to samples of the new music and learn more about one of the most talented and fastest rising stars in the music business.
Quotes:
2008 Grammys: 4 SA artists - UPDATED
Sauceda, who won a Grammy and a Latin Grammy alongside David Lee Garza as part of Joel Guzman's 2004 "Polkas, Gritos y Acordeones," said he was caught by surprise.
"I was running around getting stuff done when I found out," said Sauceda. "This is a milestone because it is my first Grammy nomination as a solo artist and really exciting.
"It goes to show, if you stick in there and work hard, and say your prayers every night, it will pay off."
After Winning a Latin GRAMMY:
Best Tejano Album, "Polkas, Gritos, y Acordeones" Sunny Sauceda: "Being able to win a GRAMMY award and now a Latin GRAMMY, this is definitely a life altering experience" 11/07/2005
" I've got to be up front with you. I'm still the guy from the flea market on Highway 16, the guy that used to play five hours for $40, that's me. You can't forget those days. It's intimidating, but you know what, I learned a lot, I gained a lot of experience. I learned that even though we all play the accordion, it's totally different. So it's a good feeling." -Sunny
Concerning his self titled release "Sunny": "I included some of the stuff people are used to hearing me do, but I also wanted to do something that I didn't do before, and that's do some old conjunto songs that I did back when I played at Casa's Nightclub," Sauceda said. "Conjunto is where my roots are. I've been playing conjunto since I was 5 years old. Not that many people know that.
"Believe it or not, all together it's been 23 years. I'm only 28. My dad would pay me like $5, because he'd always tell me, 'I'm going to pay you, because when you get paid, you're considered professional.' I didn't care. I was cool — $5 — I was only 5 years old."
December 6, 2007: 2008 Grammys: 4 SA artists - UPDATED by Ramiro Burr
Sauceda, who won a Grammy and a Latin Grammy alongside David Lee Garza as part of Joel Guzman's 2004 "Polkas, Gritos y Acordeones," said he was caught by surprise.
"I was running around getting stuff done when I found out," said Sauceda. "This is a milestone because it is my first Grammy nomination as a solo artist and really exciting.
"It goes to show, if you stick in there and work hard, and say your prayers every night, it will pay off."
---
Photo Featured on Yahoo News: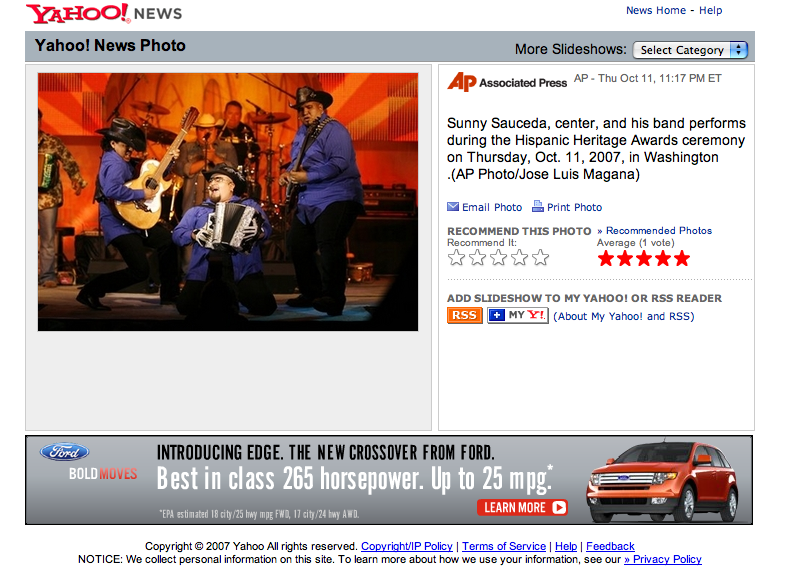 ---
Featured on Hohner's Front Page of their Web Site: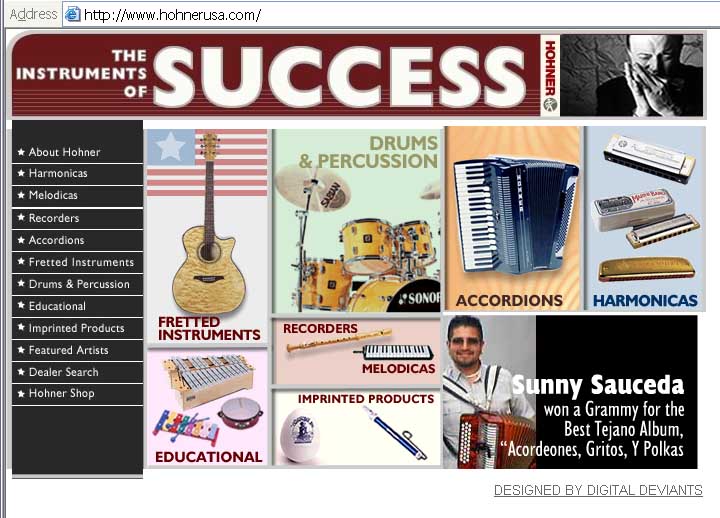 More Press Clips Coming Soon